Interview of Vyal (LOD, COI, 90DBC) from Los Angeles. Tags, lettering styles and characters...
Today you'll meet a great graffiti artist named VYAL. He's from the east side of Los Angeles. We find him through the work of the Crewest Gallery. We 'll talk about this galery very soon, stay tuned.
Fatcap: Where are you from Vyal ? What's your background?
VYAL: I am from Los Angeles . Ive been writing the name VYAL since 1990. I represent the COI crew as well as the legendary LOD crew, and i am also down with 90DBC from Paris France.
FC: How would you define your work and what inspires you?
VYAL: My work tends to be very dark at times but also very psychedelic as well. I am inspired most by Graffiti Artists around the world, but influenced by alot of indiginous art as well as the old school murals from Mexico and the CHICANO artists and gang graffiti aorund East L.A., where i spent a lot of my time growing up. I tend to stray away from the traditional styles of Graffiti but stay true to things like letter structure , and the b-boy characters that came out of N.Y.
FC: What was the interest in art and what lead you to create all those things?
VYAL: I was influenced at an early age by my brother, who would always draw these amazing characters and weird shit. I was also influenced by old school horror movies and artwork that was on the cover of records like IRON MAIDEN , and BLACK SABBATH……etc. So at an early age i was drawing monsters and weird stuff. When i was introduced to Graffiti Art , it seemed only logical that i use a spray can to create my works..
FC: What was your best and your worst creation?
VYAL: My best creation i think has yet to come, i'll leave that to the individual who looks at my work when im dead to decide that. My worst work ???? HA HA!!!! I 'll use the same answer for that too!
FC: If your style was a music band or a song? Which one would it be?
VYAL: … GREAT QUESTION!!!!!!……hmmmmmm….i would have to say PINK FLOYD…..(is that giving myself to much credit?????). Its just that they're experimental, but also dark and political. I think a lot of the murals in East L.A. and Mexico are very Pink FLoyd…….
FC: What's your worst and best habits?
VYAL: Not wearing a mask when i paint…. Taking care of my dog (SHADOW)
FC: What kind of books do your read?
VYAL: Conspiracy theory, Books on Magic and Mythology, Aztec and Mayan history, I also like reading U.S. history books just because i wana learn how to fool a nation of people for 500 years…
FC: Do you do drugs? Do you need something particular to be creative?
VYAL: No i don't do drugs. I take medicine ritualisticly every now and then, just to release my mind from the robotic state of everyday life here in the U.S. Ive always been creative even as a young boy, my minds always been the best place to get away from the rest of the world.

FC: Do you feel the work you are doing is something that should be preserved or stayed transcience?
VYAL: I would like for it to be preserved, it would be the least i could ask for...
FC:Do you dream in graffiti and colors ?
HAHA!!! Yes actually.

FC:What did you do last week?
Nothing interesting UNFORTUNATLEY.
FC:What was your most adventurous and dangerous graffiti artwork?
Painting some illegal shit in BERLIN.It was ESHER, BUKS, MAN ONE and MYSELF, we were painting a couple of yards away from a busy train station and had to hide under the train tracks as the train rolled over us every 15 minutes or so, on the other side of the wall was the freeway with lost of cars going real fast…we were sure we were going to get busted.
FC: What kind of reaction do you want to evoke from your art?
INSPIRATION.Happiness, anger.If i can get someone to rethink what they are doing with their life , then I'd be happy.
FC: Did you get girls easier with your art skillz?
It was the ONLY way i could get girls!!!!
FC: What are your favorite spots?
For graffiti??? Alleys of East Los.
FC: Ever have any serious graffiti beef?
Not really…. Some minor stuff, the individuals involved througout the years have been mature enough to talk it out. There's enough violence in this world , to many people are dying for no reason but the almighty dollar. Oh yeah ,note to the readers, people die here in L.A. because of Graffiti Beef…
FC: Can you talk about the work that you did on the Fotograff expo?
I curated the show @ CREWEST gallery because i found myself surrounded by friends and aquaintences who were capturing L.A. and the Graffiti scene in all kinds of cool ways. I have an old friend by the name of SAHL who was actually my first inspiration for creating this show. He got into photography through graffiti and he has this collection of amazing photos from over the years.He had never shown his work and i found out that a lot of the guys in the show had never shown their photos either. I felt that there hadn't been a photography show that showed the world through the eyes of a Graffiti artist and the result was amazing. The show did really well and a lot of people were inspired as well as impressed.
FC: Describe a typical day for VyalOne?
Wake up, Drink coffee, go back to sleep. Wake up again, drink coffee, think about everything i have to do , then go back to sleep. HAHA!!!!!! Actually, Alot of research, reading , learning, developing, evolving, painting. EVERY DAY...

FC:How do you choose your images and where they are placed in the street?
I don't usually work from sketches or references. Whatever i paint usually gets disscussed prior to painting a wall, lately i've been painting more freely, mixing things together and having like half a piece and half a character. Walls are hard to come by at the moment here in L.A. and the laws against expression are getting stiff… So i am currently trying to focus on large trucks that are used for shiping they make for great canvases and your art travels as well…..
FC: What do you think about hype?
It can be missplaced, which makes it bad.
FC: Name an artist whose work you respect and admire?
Where do i begin??? Dali, Gigger,Diego Rivera, Frida Khalo,Dondi,Jeyd, Werc, Man One, Asylm, Sherm, my crews COI, LOD, VT, 90DBC, the graffiti artists in Mexico City, Mookiena, Saner, Tiza, Plop, Hollow, Teox…….The graff artists of Central and South America….Os Gemeos, Nina, Nunca, Seak, Daim,on and on ,and on and on...
FC: How would you describe street art and what makes it different than graffiti or would you say it all falls under the same umbrella of shit. Don't you think it's different?
Graffiti art is a whole other world then street art, Graffiti has all of these intricate parts that you have to learn , like Hand styles, throw up, straight letters , wild styles... etc. And its through this process that people become interested in being artists. Street art to me feels like Artists trying to be like graffiti artists but without all the hard work that Garffiti Art involves. There are of course exceptions to this just like with anything else.
FC: What is the CONCRETE ALCHEMY ?
I was part of it. It's a tour called CONCRETE ALCHEMY ( Albuscav.us ) in which 15 artists toured part of the east coast and created 4 murals and 3 gallery shows. It was a lot of fun, and were looking forward to doing a lot more events and touring under the CONCRETE ALCHEMY title. I wana send shout outs to everyone who was on the tour and everyone we met along the way...
FC: How do you feel about the commercialization of street art in recent years?
Its natural for street art to become commercialized because its geared towards the general public. Graffiti art has also followed the same path because it is public, but its not for the general public. Graffiti art is resistant to exploitation because there are so many people doing it in so many different ways...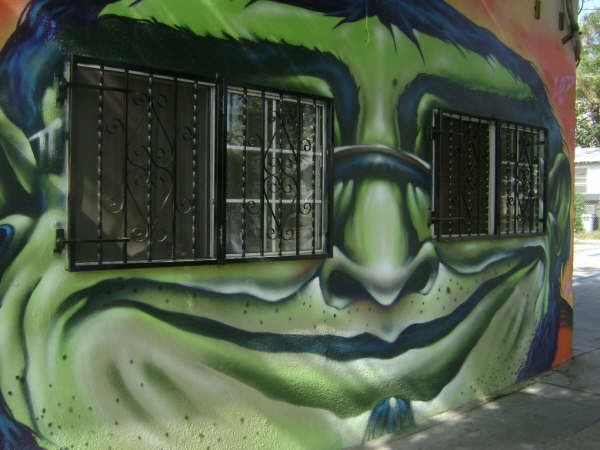 FC: What's coming up in the next few months?
Show etc… A one man show in Copenhagen @ PLAIN GALLERY in September, I'm really excited about that!!!! My first one man show internationally… as well as a handful of other shows before then. WORK, WORK, WORK until then, stay alive and survive.
FC: What's your real goal?
To be happy. And create some works that help to inspire others.
FC: Any words of wisdom?
'No great wisdom can be reached without sacrifice'….Chronicles of Narnia.
The official Vyal's website : www.vyalone.com
Thank you Vyal.