MTO is an artist from France who moved to Berlin. His paintings, in black and white, represent celebrities from music and film.
FC: Where are you from? Tell us about your beginnings and your discovery of graffiti?
I am French, I live in Berlin and started spraying on May 19, 2008 in Barcelone with Arone, the creator of TWE crew. He's my "godfather" in graffiti in some way, since it was he who first encouraged me to start spraying. Our initial friendship was unrelated to graffiti, he offered to take me spraying a couple of times to see what it was like, but I always declined. I had never seriously considered practicing graffiti, although I had already been following the graffiti and street art news for quite some years. However when we went to visit Barcelona together one time he finally got me to try it, and I was hooked.

FC: What is your name and where did it come from?
"MTO" is for Mateo, so it's not really such a stretch of the imagination. It did make me laugh however when I found out that "MTO" is also, among others thing, the name of a graffiti cleaning company .

FC: Which crew do you represent?
Currently I do not belong to any crew. I'm obviously connected to TWE since they introduced me to graffiti, and I paint with them when I go to France. When I started I wanted to quietly take the time to learn how to use spay paint by myself, and I also did not know if I would continue or get tired of it.
FC: What led you to start all this?
I view my series of portraits a bit like lettering except that I replace the change of the style of the letters with a change of faces. My work is the footprint that I leave here or along my way and at the same time I pay homage to street art and artists whose work I enjoy and who form a part of my personal culture.
The designs for the stores are more "exercices de style" in-situ (photo-montage & spraying) that allow me to show my work in more or less a free way. For example with "Heeere's kreuzberg!" (with Jack Nicholson) I could do what I wanted while "Shiva JOLIE" was originally meant to be "Shiva Hagen" with Nina Hagen as a completely crazy Shiva fighting with Jack Nicholson, who is painted on the other side of the street, but the store owner refused and wanted Angelina Jolie ... she had to be accommodated!

FC: Could you give us a little history on the graffiti scene in your town?
I do not know where to start, I think Berlin is quite known for itís explosive art scene. The city is a giant comic, and graffiti is everywhere.

FC: How would you define your style?
"Work in progress"

FC: What is the place of graffiti in your life?
It's a growing part of my life.

FC: What sort of books and films do you enjoy?
BOOKS: Eric-Emmanuel Schmidt, Peter DESPROSGES, Virginia Despentes ...
Films: All Jim JARMUSH Chris MARKER "Pier" and "cat perched," "Akira," "Pi" ... the first film by Alain Resnais about life in rewind of a red plastic bowl ....
FC: What is your favorite quote?
"Les gardiens de la paix, au lieu de nous la garder, y feraient mieux de nous la foutre" Coluche

FC: What's your inspiration?
Music, photography, cinema and documentary, street art ...

FC: Can you name for us an artist whom you admire and whose work you respect.
One would be hard, but I can name a handful: Banksy, Arman, Zevs, Space Invader, Harun FARUCKI, Julian Beever, Annie Lebowitz, Ernest Pignon Ernest, Chris Mark ...

FC: If your style was a song or a music group who or what would it be?
Today it would probably be "If you want me to stay" by Sly & the Family Stone and/or "The Letter" by Al Green.


FC: Your style is very realistic, where did this desire come from to accurately represent people.
It came from my personal culture & history. I was raised surrounded with b & w photography by my father, who is great lover of analogue photos.

FC: Why are the majority of personalities that you paint black and from the music scene?
It was not really premeditated, I focused my first year of graffiti on the music scene, and it just happens to be that most musicians that I listen to and that I wanted to pay tribute to, are black and like to scream between two couplets with eyes closed and frowning ... but I'll be asked to draw in others who are not black ..... surely more women also.
FC: How do you plan your pictures? Do you do use sketches or do you prefer to freestyle? And have you any particular habits?
I try to keep my equipment minimal (just photo and spray) and I'm trying to practice painting in all conditions. This is also why the quality of my pieces remains quite variable. Apart from that I normally have a compilation of MP3 that I listen to. Regarding the execution of the painting I'm still in the testing phase, I do not always follow the same system or methodology, I'm searching...

FC: How do you choose your colors? From what I have seen your work is often only in shades of black and white with some red.
When I started graffiti I was full of jostling ideas. I wanted to do everything and nothing at once, so I imposed restrictions, one of which was a simple but effective color coding that allows me to compare one portrait to another, this way I can more clearly see my progress and any shortcomings that remain in my work. It also functions as a way to make my pieces identifiable as belonging to one person within the huge array of street art that exists in the streets of Berlin. In fact, my whole style was set up in response to my work constraints.
But it's likely that all this will change in the future. I might change directions, I'm currently just going step by step and following what I enjoy.

FC: What are the characteristics of a MTO's piece ?
A typical portrait in the street, would measure between 2 and 3 meters high and take me between 2 and 5 hours to paint. I work only with spray, mainly Belton. On the technical side, when I paint in the street I do it just from a photo. When I paint stores, for lots of reasons including time and size, I take pictures and compare them later on a computer so that the next day I can correct any errors of proportion.

FC: What kind of reaction do you want to evoke from your art?
The desire to see the rest of my work.
FC: Have you ever had any beef with graffiti?
Up till this point I've always met pretty friendly guys. Though normally when I paint itís kinda like a mission, I go, I paint, I leave. In Berlin I try to be careful not to disturb the local network, and to cover without offending anyone, but sometimes Iíve made mistakes.

FC: Have you any graff anecdotes?
Well I once covered, by accident, a local king named "SOME" and the next day I started receiving "messages of love" from his fans. Around two weeks later, I went to Görlitzer Park in the mid-afternoon, dressed as "the guy no one remembers", to cover one of my portraits which was never published because I did not like it.
On arriving I saw what I thought to be a typical tourist taking photos. Suddenly, when he saw me unpacking my gear, he asked me (in German) what I was painting. I replied "Spike Lee". He asked me why I wanted to paint over this graffiti in particular. I explained that it was mine. He laughed and asked if I had stopped painting musicians. To this, I asked him if he had already seen other works of mine. He showed me some pictures on his digital camera, including the photo of the piece where I had covered SOME. I asked him how he had taken this picture since the graffiti was not even left a day before being re-covered by "SOME". He said he was probably lucky, laughed, slightly embarrassed, but finally confessed that he was indeed "SOME" dressed as a tourist for the "sprayinthebagwalk", and that due to the fact that he saw my work on the internet, he was able to recross me within 24 hours and that he was therefore part of the "messages of love". Obviously I was dumbstruck, I had to ask him to repeat himself four times and we had a good laugh. I apologied and went for a coffee. We got on pretty well and decided to paint together at the place of our encounter which resulted in the piece"Spike Lee feat. SOME". A piece which incidentally marks the beginning of my second series on cinema.
What is your best experience in graffiti?
I do not know if it was the best, but it is certainly the most striking. It was the first store I painted with Jack Nicholson. It was a big challenge and a bit intimidating since it was only two months after I started graffiti. The shutters of the shop are very high and situated at the crossroads of an really popular intersection, it was a big step for me.
Heeeeere's Kreuzberg!
Pump up the volume
What for you is the perfect spot for graffiti and perfect graffiti?
The perfect spot is the wall just behind the first shop I painted. It's currently painted with a giant cosmonaut by Victor ASH. The wall is huge and overlooks a large artery that is dominated by the elevated railway and is in the heart of Kreuzberg - hard to ingnore. This painting can be found in most of the books about street art from Berlin and is often on the cover.
Perfect graffiti ...? probably certain lettering from Bando or the portrait of Joey Starr by Alex of MAC crew ... amazing! I had to see it in many books before I believed that it was not a photograph. I'd love to see him working in real life. Also some Flow's work, the TWE crew portraitist, he has a really good technique. Arone introduced us, we keep in touch and I'm trying to match his level but will have to work more because he has the lead and continues to improve.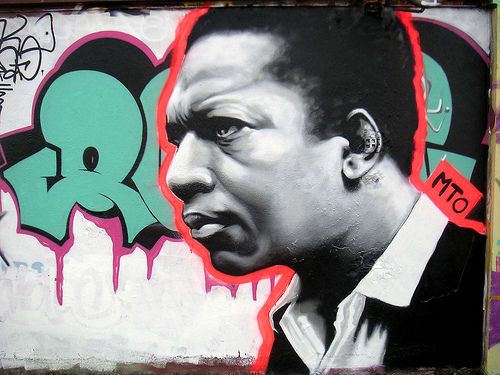 FC: In what direction do you want to change your style?
Good question, one that I ask myself as I have many ideas. I feel like diversifying but we'll see! I give myself time.

FC: What makes a piece good for you?
I had lots of specific ideas about this but since I've lived in Berlin I've discovered so many different styles that appear in so often or such a monumental way that I've learned to appreciated things that I did not like when I arrived.

FC: Who owns the street?
Those who give it life, I would say.

FC: What would now be the ultimate recognition for you?
A fantasy for me, would be to perform crazy urban projects like BLU or the previously mentioned cosmonaut. Somewhere in a big city, a blank wall with a good position, 10-20 meters high, a free theme, working platforms, sprays provided and a long enough time. It's "Eldorado" for the "street artist".

FC: How you see the graffiti evolved in 10 years?
I think I havenít practiced graffiti long enough to comment on this.

FC: What do you see as the difference between graffiti and what we call street art?
I tend to say that graffiti is one area, one of the fields of street art. People who have no means of being visible or expressing themselves speak in the streets, for the eyes of many, by their own means, sometimes legal, sometimes not. Street art, as its name suggests, is art in the streets, so you can find everything (graffiti, tag, sculpture, painting, stencils, stickers, installation, performance, music, are even knitting now ...) Graffiti distinguishes itself beause it has developed its own culture around a particular tool which was originally chosen for pragmatic reasons, mobility, durability, relative lightness, large visual impact ..., suitable for the "urban guerrilla". Graffiti and tags are very codified, it is a way of life, a war of representation through the pursuit of graphical research.
Personally, I do street art - for sure! But do I do graffiti, that is still debatable. I use the spray can in the street but that does not automatically make me a graffiti artist, because I have (so far) not defended a crew, or practiced lettering. For the moment I am ... let's say ... spray painter!

FC: Does graffiti make you free?
I do not know. It depends what kind of graffiti we speak about but if you ask those who will pay 2000 euro per month for life for drawings, they will probably somewhat disagree. The graffiti, it is not free, and I am not convinced that it was meant to be!

FC: Why does graffiti fear exist?
I think graffiti is scaring because it is a practice born from disavantaged neighborhoods and people. Imagine a little in people's heads (too) well-meaning : there are guys who paint the subway at night, others jumping from building to building, and others who are dancing by making rounds on the head .... it's frightening! I think it comes mostly from the fact that the pioneers of these fields have not asked permission to test all this, they took the law in their own right its the notion of illegality that frightens. Especially if you know the graffiti or street art that through sensational reporting of public channels service.

FC: Do you practice another form of art, apart from the graffiti?
Video, graphic design, drawing, digital photo and some design / DIY.

FC: A sound you that you have burned in graffiti session?
Many. Including "simply beautiful" by Al Green for concentration when I start.

Future projects?
Some, yes, but nothing is sure yet, we'll see .... Music has been the theme of my first season of graffiti, for the second season I started with film but without closing the previous series, for the rest I'm not sure how it will evolve. I just know that I can not only do graffiti, I try to keep a link with my other activities. It will also depend on the whims and opportunities that comes.

FC: What is your ultimate goal?
Keep the fun, no matter the tool.

FC: Have you a dedication?
For TWE: Arone, Flow, Skuza, Haiastan, Deza, Frog ...

Translation : Jarod PAK, many thanks to him.